The Presentation Center

Nestled among the redwoods in the Santa Cruz Mountains, The Presentation Center offers 5-star hospitality just a few minutes from the hustle and bustle of Silicon Valley. For 40 years we have offered warm hospitality to groups and individuals. It is our pleasure to welcome TotallyGuitars and The International Guitar Camp in 2015. Our beautiful and historic property, tucked into the forest, provides the perfect setting for musicians to come together in the spirit of camaraderie and education.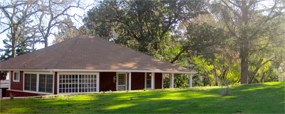 The beautiful and peaceful grounds include cottages where the IGC guests will be staying. Each cottage includes a kitchen, a central gathering area, and 3-8 bedrooms sleeping 1-2 to a room.
There is a central Dining Hall where all meals are prepared by a world-class staff who can easily accommodate most special diet requests- gluten free, vegetarian, wheat free, pretty much anything you might desire.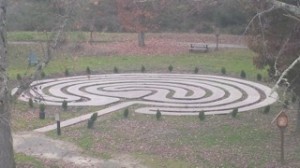 Other amenities available for our use include a swimming pool, basketball court, a redwood amphitheater which we may be using for our nightly Open Mics, a pond inhabited by a pair of blue heron, a labyrinth for quiet reflection, and a short nature trail through the grounds. There are many miles of hiking trails right next door in an Open Space Preserve not yet open to the public but available to guests of The Presentation Center.
There are a couple of wineries just a little further up Bear Creek Road, less than 10 minutes away, and the charming town of Los Gatos is also just 10 minutes back toward civilization, if you are inclined to need to get back to it all for any reason during your stay.